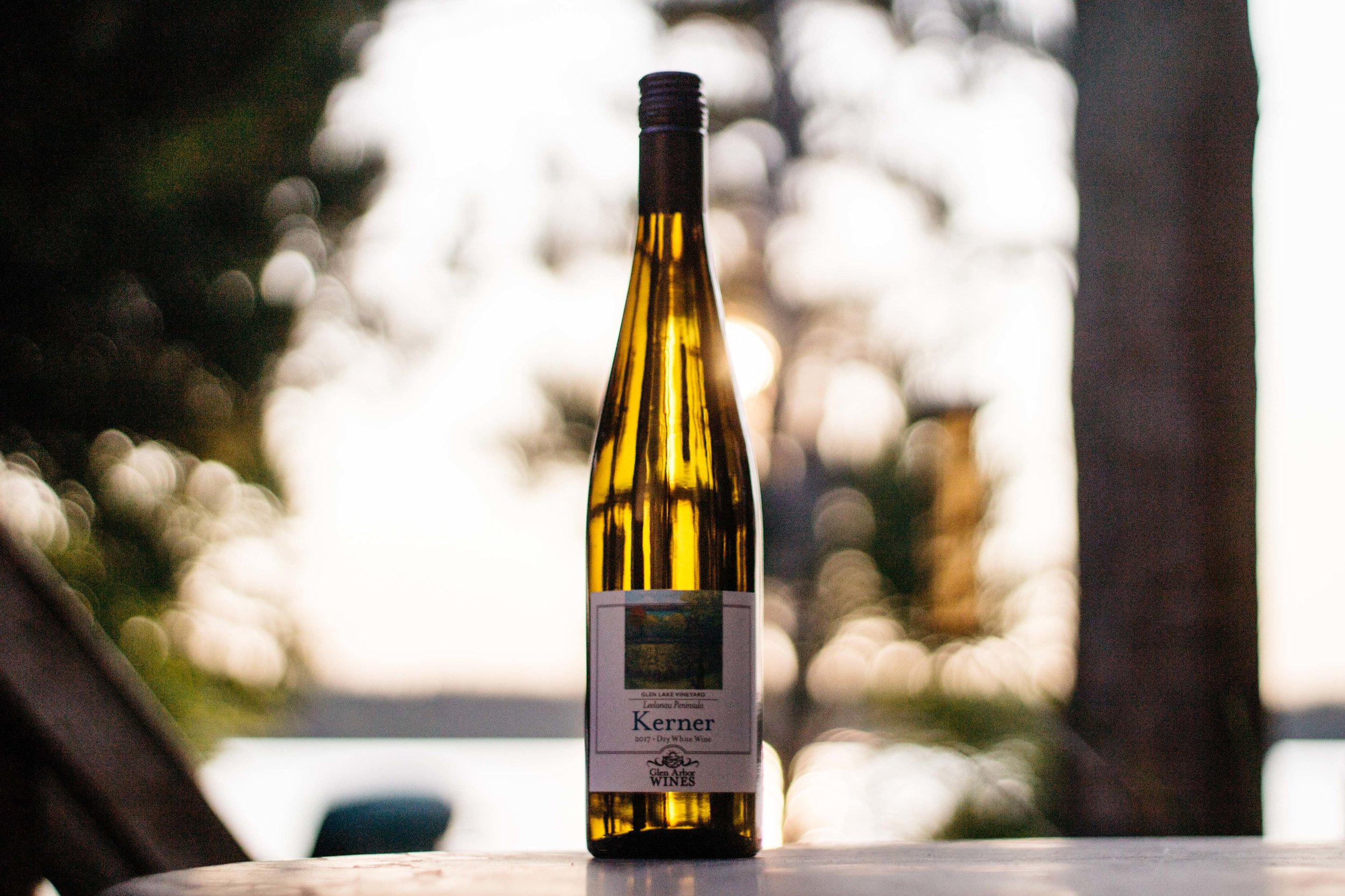 Blanc de Blanc
"Lake Michigan Overlook #9"
Big Apple, creamy mouth-feel, with a fresh crisp off-dry finish makes this wine an ideal pairing for a large variety of cuisine. We recommend pairing this wine with fresh Leelanau Herbed fromage and some tasty locally baked bread.
Sparkling Riesling
"Breathtaking Pyramid Point"
White peach from beginning to end, our Sparkling Riesling is delicious. Slightly sweet up front with a nice clean finish, we recommend pairing this wine with a mild blue cheese with local honey on a warm baguette or a slightly spicy Asian dish.
Pinot Grigio 2015
"To the Dune Beach"
Bright citrus notes on the nose and palate. This Pinot Grigio is fresh and crisp with a nice weighted mid-palate. It is a great complement to our area's local fresh Whitefish or perhaps a summer salad with local greens, strawberries, and goat cheese.
Sauvignon Blanc 2016
"Along the Scenic Drive"
Aromas of honeydew melon and fresh cut apple will engulf your senses. This delicious white wine is dry and refreshing. It has a fuller body with a medium finish and pairs well with a Cobb
salad, grilled pork or chicken, or a light seafood pasta.
Chardonnay 2014
"Where Lake Street Ends"
Barrel fermented and rich with oak flavor, this Chardonnay is certain to please those looking for a richer style chardonnay with aromas of vanilla and juicy apple and pear. We recommend pairing this wine with a creamy baked brie with pecans and brown sugar, a wood smoked pork tenderloin, or a cedar plank grilled salmon.
Riesling 2013
"Hunting for Pestoskey Stones"
Our sweet Riesling has stone fruit aromatics with hints of petrol, often fooling some into thinking it is a German Riesling. The sweet finish is followed by a clean acidity leaving your palate feeling clean and refreshed. This wine will be a perfect pairing to a spicy tuna roll with avocado, a blackened whitefish with mango salsa, or a lovely piece of Humbolt Fog cheese.
Sunset Rose
"Goodnight Manitou Islands"
Semi-dry in style, this fruit forward rose wine has aromatics of strawberries and bramble fruits. The fruity nature of this wine makes it a delight to drink a chilled glass while watching the sunset on the beach.
Liquid Beauty
"A Glen Lake Moment"
A dry red blend of French hybrids and local vinifera, our liquid beauty blend has a light to medium body with a dry finish. The fruit notes upfront might remind you of an Italian table red but the finish has more Earthy notes. It is a great compliment to a dry hard cheese such as Mahon or Parmesan. It would also pair well with some grilled lamb or duck.
Merlot 2014
"View from Alligator Hill"
Aromatics of cherries with hints of herbal notes make this Merlot tantalizing and desirable for consumption. The round weighted palate with the balanced tannins make this wine a delight to drink. We recommend pairing this wine with a grilled marinated skirt steak or a portabella burger.
Farmstead Red
"A Day in Port Oenida"
The nose of this wine will remind you a delightful French beaujoulais. The dominant grapes in the blend are related to the famous Gamay Noir and thus create a lovely drinkable dry fruity red wine. We recommend serving this wine at room temperature or with a slight chill on a hot summer day. Our Farmstead Red is a wonderful pairing with barbecue, pizza, and burgers.
Hopped Hard Apple Cider
Made with 100% Michigan grown apples, we add Citra hops to create a dry style cider that appeals to a hard cider consumer as well as a beer consumer. This is a cider that will keep you coming back to fill up your growler before and after a day spent lounging on the beach on Lake Michigan or on a patio enjoying time spent with friends.
TASTING ALLOWED FOR PEOPLE 21 YEARS OF AGE AND OLDER
GOVERNMENT WARNING: (1) According to the Surgeon General, women should not drink alcoholic beverages during pregnancy because of the risk of birth defects. (2) Consumption of alcoholic beverages impairs your ability to drive a car or operate machinery, and may cause health problems.